Radio Eyes Help
Tracking Mode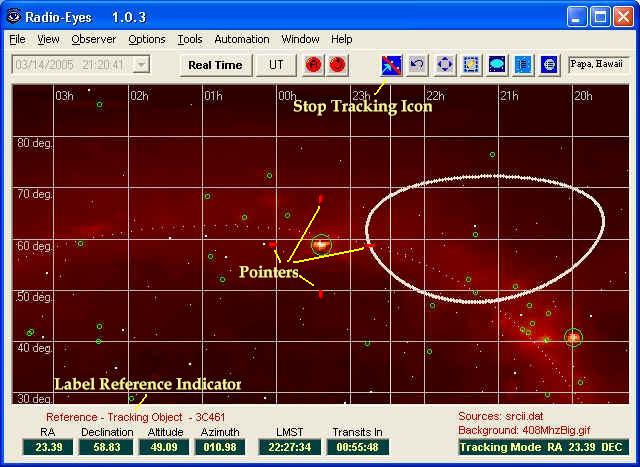 In Tracking Mode, the sky map follows the position of a given object over time. The object always remains centered on the sky map and an animated cursor (4 moving red dots) points to the object. If you have the Automation Enabled Version of the program and are using an active rotator definition file, Tracking Mode can send position information to the rotator and control antenna movements to stay pointed at the object.
Tracking Mode can be enabled for given object using the Select Source panel as discussed in Working with Objects. You may also initiate tracking to a particular coordinate (RADEC) by using the Right Mouse Menu and selecting Track. Stop Tracking is also found on the Right Mouse Menu when appropriate, or by pressing the Stop Tracking Button in the tool bar when tracking has been enabled.
When in Tracking Mode the position labels at the bottom reference the object or RADEC being tracked. Note that then beam does not necessarily coincide with the point or object being tracked by the program.