Radio Eyes Help
Information Windows
One of the key purposes of Radio Eyes is to obtain information regarding the various cosmic sources. Of particular importance is relevant position and intensity information. You may retrieve this via Information Windows that are generated dynamically by the program. To retrieve an Information Window for an object you use the Right Mouse Menu on the sky map and pick Info. Select the radio source on the Select Source panel and either double click the entry or click on the More Info button. A window similar to the following image will appear.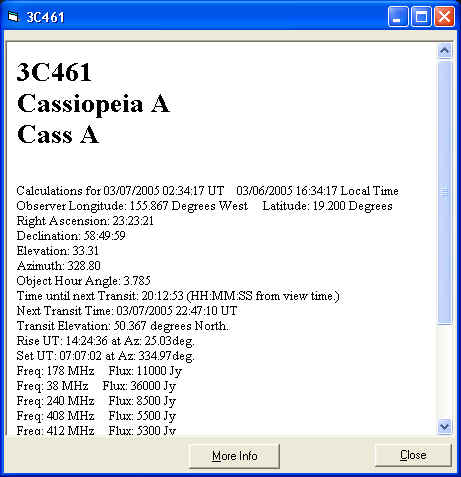 Note that a More Info button appears at the bottom of this panel. This button only appears if there is an html file in the \HTML\ directory that uses one of the names of the source. Clicking the button will bring up that html file in a separate Information Window. Thus it is possible to add more information regarding any particular source by placing an appropriately named HTML file in the HTML directory. Note spaces are not allowed in these file names and so a file using the name Cass A would have to be called Cass_A.htm. You could add images to files. Place images in the \HTML\images\ folder.
See more information about Working with Objects.